Ralph Shangraw Memorial Award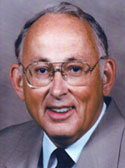 Amount of award - $10,000
Before his death in 1998, Professor Shangraw, former Chair, Department of Pharmaceutics, spent over 38 years teaching and conducting research on improving our understanding of excipients at the University of Maryland School of Pharmacy, along with many years of service on the Expert Committees of the U. S. Pharmacopeia. In addition, Professor Shangraw was one of the founding members of the American Association of Pharmaceutical Scientists (AAPS).
The Ralph Shangraw Memorial Award is to be awarded to any person who, in the opinion of the Board, has provided outstanding research contributions in the study of excipients or excipient-related technology over a number of years. The award is open to all scientists of any nationality or residence working in this field of research.
This award recognizes research achievements broadly in the field of pharmaceutical excipients, including but not limited to, research that contributes to: (1) an understanding of the basic science underlying excipient functionality, (2) excipient safety, including the development of test methods and standards, (3) the development of new excipients or novel use of existing excipients in new applications, and (4), the development of rational compendial/regulatory standards for excipients. Recipients of this award will receive $10,000 from IPEC Foundation as a reward for their efforts.
Nominations for this award shall be submitted to the Foundation's Scientific Advisory Committee ("SAC"). The SAC will initially screen the applicants based on the Foundation's criteria, and the top (3) nominees considered worthy of the award will be referred to the Foundation Board for final selection. The Board will decide the winner by a majority vote after discussing the various nominees and the recommendations of the SAC. The Board will rank the award applicants by order of merit, to ensure a qualified recipient is readily available, in case the top-ranked selection declines the grant. All applicants must submit their application using the Foundation's Award Application to be considered for this award.
The award will be given annually unless there are no worthy applicants that year. This award is open to any individual who has contributed to the research of excipients regardless of nationality. The winner will be expected to attend the Annual Meeting of the American Association of Pharmaceutical Scientists (AAPS) in the year of the award. The recipient will also receive a complimentary AAPS Annual Meeting registration. Employees of IPEC-Americas and IPEC Federation member companies are not eligible to receive the monetary compensation if selected for this award. Applicants employed in nonacademic organizations or institutions may not be eligible to receive the monetary  compensation if selected for this Award.
If you prefer, you may send as a single PDF file to ipecamer@ipecamericas.org by July 22nd of the year of application. A single Microsoft Word file will be accepted if PDF capability is not available. The award name (Ralph Shangraw Memorial Award) must be shown in the subject line of the email. Mailed nominations will be accepted if sent to: IPEC Foundation, 3138 N. 10th Street, Suite #500, Arlington, VA 22201, USA